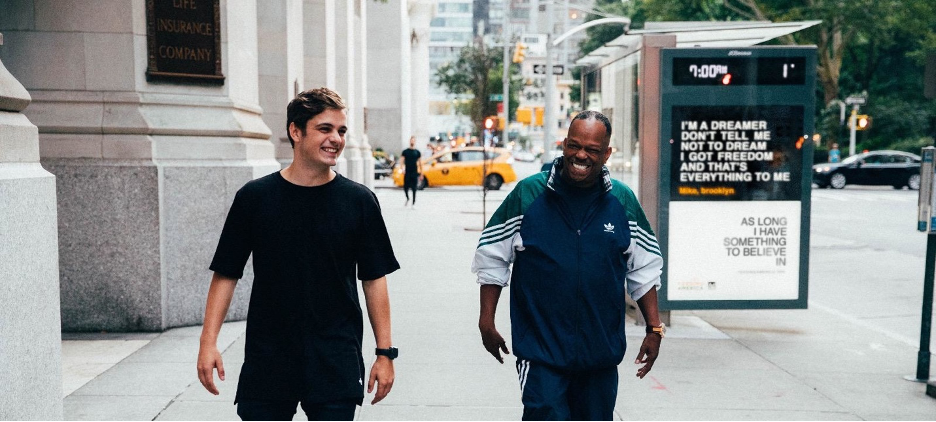 Top 10 of the most surprising collaboration in the electro world
Nowadays, DJs and Producers are considered as superstars, thus we are not surprised when we see a collaboration between them and other artists from different background. For example, Lady Gaga called on Tchami, Axwell, Madeon and Skrillex for her latest album.
We've came up with the top 10 of the most unthought collaboration; enjoy!
The Chainsmokers & Louane
What a surprise, Louane coming back from her break with this collaboration. If you haven't heard the piece, now it's the time, you are one click away…
During an interview from Louane for the Billboard, she explains that the American duet came to look for her and not the opposite, so she was apparently known from the American market. The Chainsmokers and Louane recorded the track in California, in English (a first for the French artist) but the duet still wanted to keep this French touch that Louane was bringing, hence, the "Mon amour" in the song.
Diplo & Niska
Top 9, and we stay with the American/French Duet, you must have heard from them both. Their collaboration is everything but random, indeed, Niska came to Diplo directly in Paris and they started talking about an eventual collaboration. They started working together in October 2017 and it is only last year that they released their piece 'Boom Bye Bye'.
Since then Diplo, big fan of the French urban scene, he had been working with few artists from Europe, after releasing their EP 'Europa'.
The Bloody Beetroots & Paul McCartney
For this collaboration, we need to go back further in time, year 2013. That year, The Bloody Beetrootshad already had their iconic duet with Steve Aoki, and they released the track 'Warp1.9', that wasn't enough.
The same year, they collaborate with the iconic Beatles bassist, Paul McCartney, and together they make 'Out of Sight', which with the voice of the British artist, made the track as a brand new one.
Sam Feldt & Jeremy Renner
Perhaps the most unlikely collaboration of all. Jeremy Renner, the successful and famous American actor from incredible tv shows for the past few years. He is a world-famous figure as actor, but less as a singer, which makes this collaboration even more surprising.
It is in September 2018 in Las Vegas, during a festival that Jeremy Renner has the opportunity to go on stage and meet with Sam Feldt, this is when we all discovered his singing talents. Here is their piece.
Petit Biscuit & Bigflo & Oli
Bigflo & Oli, the brothers from Toulouse, are well-known already for their albums (like 'La Vraie Vie') but also from their numerous collaborations over the years, with for example Joey Starr, Stromae and others. But now for their new album they were looking for something different, something more Electro, and this is why they have create their album 'La Vie de Rêve' with the artist Petit Biscuit, well-known of the Electro scene. If you haven't heard their new hit 'Demain', click here.
Martin Garrix & Mike Yung
Some background about Mike Yung, as you may or may not know, the artist spent 38 years of his life playing in the New York Subway. He became popular after one viral video which allowed him to go on until the semi-finals of the show 'America's Got Talent'.
It still didn't allow him financially to produce his first album, this is why he launched a fundraiser.
Martin Garrix, got to know the voice of the artist through the show but also through numerous videos of his. He immediately liked the soulful voice of Mike Yung and invited him in Amsterdam, where they created 'Dreamer' a beautiful tribute to Mike Yung's wife, Lydia, who sadly died earlier in the year 2018.
Bob Sinclar & Robbie Williams
This is quite a duet, a French electro figure Bob Sinclar with the greatest British pop star Robbie Williams, releasing last year 'Electro Romantico' a piece that doesn't get the success expected. As it is completely different from what the French artist use to give us. The track is slow and has some Jamiroquai style from the early 90's, with violin arrangement. Let's not judge the piece by the cover, but listen to it first, here.
Steve Aoki & Backtreet Boys
This is clearly not a surprised, as we know Steve Aoki, he goes from collaborations to collaborations from different genres and styles. Few examples, the rapper Kid Cudi, Louis Tomlison, Blink 182 or even Linkin park.
But where is this idea coming from, you would ask. The artist first invited Nick Carter, one of the 5 of the Backtreet Boys, to interpret one of their song during a show in Las Vegas. Next moment, they release 'Let It Be Me'.
What So Not & Toto
On one hand with have the Australian band, What So Not and on the other hand Toto, a legendary American rock band, author of few titles like 'Africa', 'Hold the Line'.
The Australian band confess only collaborating with artists they truly adore, so when the collaboration with Toto came up, it was from a completely different point of view, since they had never worked with artists from the electronic genre. It is the son of Toto, the lead guitarist of What So Not that suggested the collaboration to his father.
deadmau5 & Cypress Hill
To finish this top 10, one of the oldest track for this selection, deadmau5 and Cypress Hill from 2012 'Album Title Goes Here'
The collaboration between the iconic Latin American group and the Canadian is simply blow minding.
One of the tracks of Cypress Hill 'Failbait' is actually featuring a sample of deadmau5 track called 'Waking Up From The American Dream'.
At the time of the encounter, the track of deadmau5 already existed but it was not a reason to give up such collaboration. Indeed, Cypress Hill took over the track and made something even greater. Both artists can agree on that. What about you?
The Top 10 is now over, but we could have added so many more collaborations. And just for the fun of it, here are few of them: